Market stalls
At what is most likely to be the largest classic and youngtimer BMW event in Europe, belongs a huge parts market. Already we have sellers from last year confirming their presence for this year as well.
The Sharknose Team wants to offer more parties a chance to be there and find a special dedicated audience hard to match. For a friendly amount you can rent a market stall measuring 1 by 4 metres for the entire day.
Price on request, get in contact via kraam@sharknosemeeting.com. The market stalls are placed in the warehouse, not affected by weather conditions. It is of course possible to rent multiple market stalls. Because we're running out of space it is not allowed to park vans inside but they are allowed in early morning to setup the stalls.
All you have to worry about is bringing the goods and people to sell them. Upon special request we can provide electricity.
Want to reserve your market stall? That can be arranged with one e-mail to kraam@sharknosemeeting.com
Important note: setting up the market stalls can be done on the day from 8.00. All cars, trailers, etc need to be out of the warehouse latest 9.30. No exceptions.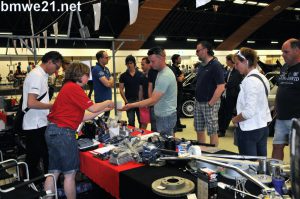 Sponsors
The Sharknose Meeting is an event by BMW fanatics, for BMW fanatics. We try everything within our possibilities to keep admission fees very low. Partially that is made possible by using a team of volunteers, but still we need some money. Rent of the hall, permits, insurance, crew shirts, communication devices, local taxes, safety vests, first aid people, and so on.
Of course this can all be made possible only with the help of a team of sponsors and we appeal to businesses to support the event. For Euro 100 you can already be an event sponsor and for Euro 750 you can be main sponsor. What can we offer in return:
• Mention of sponsors on website and in promotional activities
• Sponsors have a link to their website on the Sharknose website
•Sponsors get a market stall at their disposal (if requested in advance)
•Main sponsors get extra attention on our website and in promotional activities
For more information, please e-mail your contact details to sponsor@sharknosemeeting.com and we will make sure to contact you personally a.s.a.p.